Description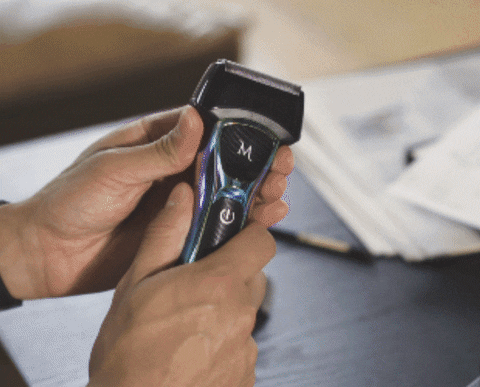 All-in-one Grooming
This all-in-one grooming kit brings the barbershop to the comfort of your own home. With an attachment to trim any hair from your head down to your toes, you can create a perfectly groomed appearance on your own without paying barbershop prices. The self-sharpening stainless steel blades will allow for a close, sharp shave for years to come.
Perfect For Travel
The 4-hour battery life is more than enough time to trim hairs from your head down to your toes and everywhere in-between. Travel lock and worldwide voltage allow use anywhere at any time, which is great for travel, vacation, business trips, and more.
Double Foil Heads
Two inner blade/outer foil shaver captures & cuts hair for smooth, close shaving with any hair type. A smart shaving sensor detects different beards. Our Foil Shavers all have a dual foil head for increased comfort and precision while shaving.
Fast Recharge
LED Display indicates battery power and current RPMs. Built-in rechargeable Lithium-ion battery delivers up to 120 minutes of run time by a quick recharge.
Adjustable Guard Sizes
Choose the exact hair length to suit your style with 6 length guards for the beard trimmer and 4 different guard heights for the body hair trimmer.
Technical Specifications
Model: GS5
Display: LED
Motor: DC 3V
Noise Level: ≤30db
Adapter: 100-240V
Work Time: 120 mins
Battery Type: 600mAh Li-ion
Item Weight (pounds/kilogram): 5 oz
Package Includes
1 × User Manual
1 × Hair Clipper
1 × Charging Base
1 × Foil Shaver attachment
1 × Full-size trimmer attachment
1 × Precision trimmer attachment
1 × Nose & ear trimmer attachment
1 × Body hair trimmer attachment
6 x Guide Combs (12mm, 9mm, 6mm, 3mm)
4 x Body Hair Guides (1mm, 2mm, 4mm, 6mm)
1 x Barber Cape
I Would Buy It Again!
This multi-function men's grooming kit with foil shaver was a great buy. All the attachments worked as expected. It was everything I wanted it for. It just died out on me, but it saw a lot of heavy use. I would buy it again.
Outstanding! Very Pleased!!
Trust me. I take my time when buying on Amazon. Read plenty of reviews so I know I'm getting the real deal. THIS IS IT! Can't speak to battery life yet, but I just got the best shave of my life! Used the body trimmer to cut down the long facial hair and then dove in with the double edge razor or foil to get really deep and close. Nose hair trimmer worked perfectly. That's all I've used so far... pretty sure the rest will be on point. Highly recommend!
Doesn't give u a good shave
I have been using it for over 3 weeks and I have yet to get a good shave it does not get all whisker doesn't matter in what direction u shave I focus on those whiskers that it hasn't cut and after several different direction it finally gets it. Very disappointed
This is perfect for me and my needs. It's got power. It's got attachments and it's all in a nice organizer for easy traveling.